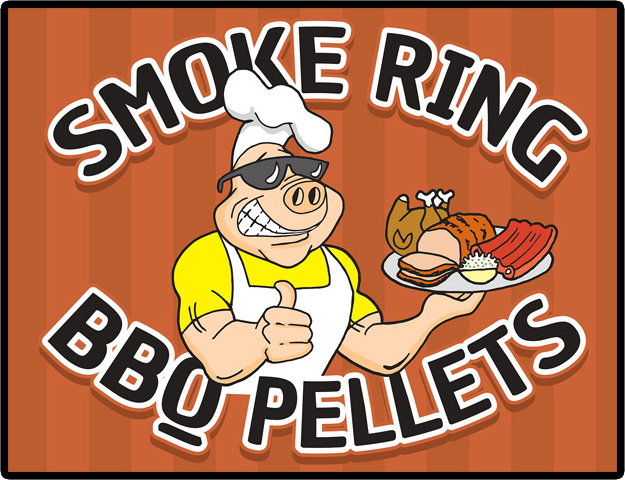 Smoke Ring BBQ Pellets are the highest quality BBQ Pellet available. Used by some of the best BBQ Restaurants and competition teams in the country. They Contain no filler wood or oils and are designed for use in any grill or BBQ Wood pellet smoker.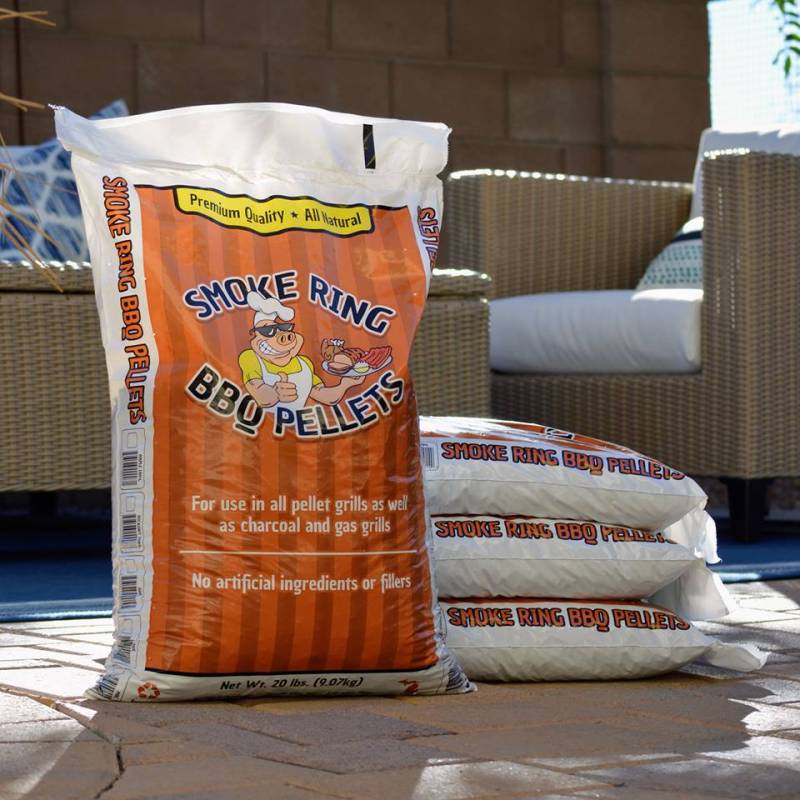 THE SMOKE RING DIFFERENCE
---
Always 100% of the labeled species
No fillers or additives
Confidence in a consistent smoke
7/32" dia. die made specifically for BBQ pellets, this allows for a more consistent smoke and less auger jams
Competitively priced
4 Flavors
Some of our competitors will use a neutral wood, such as Alder and Oak, to create a low cost 'blended' pellet. At the same time these competitors can offer a 'premium' fee for those wanting to purchase pure pellets.
Our Smoke Ring BBQ Grilling Pellets contain
NO
fillers and are always 100% the labeled wood.
---
Smoke Ring BBQ Grilling Pellets are available in 4 flavors that cover all the meats and flavor profiles desired by smoke enthusiasts everywhere. Whether you want the light and sweet smoke flavor of a cherry wood, or the deep, rich flavor of the mighty oak wood, Smoke Ring BBQ Grilling Pellets has what you want.
Smoke Ring Pellets can be ordered by full tons.
All of the wood used in Smoke Ring BBQ Grilling Pellets is locally sourced in cooperation with foresters committed to the sustainability of our natural resources.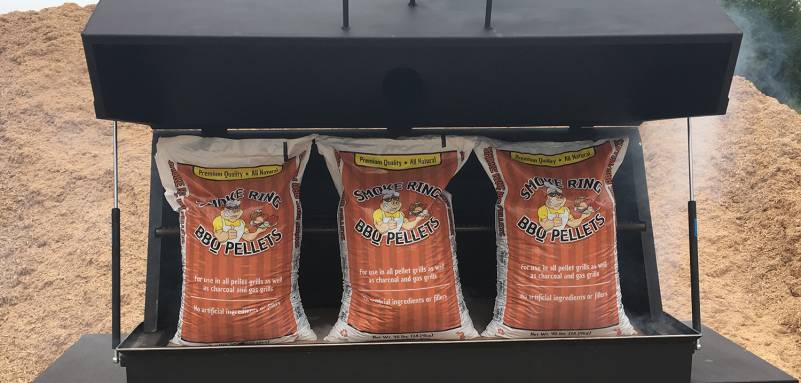 Available Flavors
---
100% Oak
100% Hickory
Oak, Hickory, Cherry Blend
Maple, Hickory, Cherry Blend

"★★★★★ Smoke Ring is my go to brand now!"

Christopher Guthrie
"★★★★★ I was so impressed with Smoke Ring Pellets after doing a group by that I became a dealer! I don't specialize in BBQ products at my shop but wanted to make sure people in my area has access to these amazing pellets. I can't say enough about the product and the company itself! Chris Brooks Sparta, IL C4 Gun Store "

Chris A. Brooks
"★★★★★ Love these pellets, but wish there was a local dealer near me (Brattleboro, VT/ Keene NH area). I have used the MHC blend for numerous cooks short and long in my Blaz'n Grid Iron. Low ash, good heat, and nice smoke flavor. High quality pellets. "

Craig C Charles
"★★★★★ The best pellets I have ever used. I would suggest this brand to anyone. I use what I sell!"

Michael Williams
"★★★★★ Quality is great. Good hot fire, smells awesome. We became dealers and are very happy with that choice!"

Chris Nelson
"★★★★★ These are by far the best pellets I've ever used. I may be a little biased but really, I've been using BBQ pellets for 8 years and these really are wonderful."

Tom Monley